June 28, 2014
By Steve Bohnel
@SteveSportsGuy1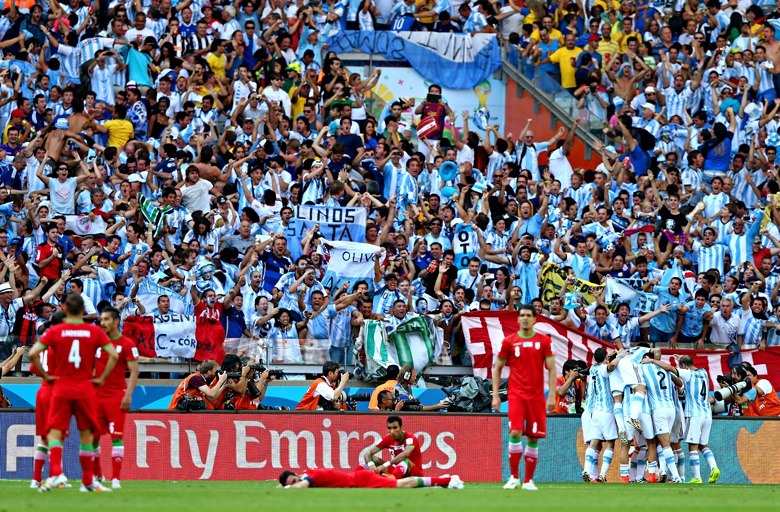 Well, after
a record 136 goals were scored
and 16 teams were eliminated, the 2014 FIFA World Cup is now on to the knockout stage. Here are the eight match-ups set to take place in Brazil beginning on Saturday:
Brazil and Chile kick off the Round of 16, and although the hosts are many experts' favorites to win the tournament, they haven't really looked true to form, with the exception of a
4-1 thrashing of Cameroon
. With proper officiating in the opening match, Croatia may have made it out of the group. But Neymar is a great player, and the knockout stage is a clean slate for all 16 teams.
PREDICTION: Brazil 2, Chile 1
.
Colombia has been one of the strongest sides at this World Cup, and they face Uruguay, who face a tough task after losing their star striker Luiz Suarez
due to another biting fiasco
.
Colombia sits right below Uruguay
in terms of FIFA rankings, but a lot of that probably has to do with Suarez and his uncanny ability to put the ball in the back of the net.
PREDICTION: Colombia 2, Uruguay 0
.
The Netherlands have been arguably the best team in this tournament thus far, and
Arjen Robben may be the best player at the moment
. Mexico has ridden high emotions to this point,
especially when looking at manager Miguel Herrera
. But the Dutch are too strong for this Mexican side, even if Brazil failed to beat them in the group stage.
PREDICTION: Netherlands 3, Mexico 1
.
If you had Costa Rica winning the group and facing Greece in the Round of 16, kudos to you. When looking at the actual match, we can look at Greece's stout defense and say that has a chance, but Costa Rica came out of one of the strongest groups, beating Uruguay and Italy in the process. So I like Costa Rica's magical run to continue.
PREDICTION: Costa Rica 1, Greece 0
.
Nigeria is also turning heads by beating favorite Bosnia-Herzegovina as the second team to make it out of Group F, along with Argentina. But Nigeria can't match up with a stronger French side, even without Bayern Munich star Franck Ribery. Karem Benzema has looked impressive, and Pogba is a capable midfielder along with goalie Hugo Lloris. The French are the pick on paper.
PREDICTION: France 2, Nigeria 0.
Germany plays Algeria. Need I say more.
Although Algeria qualified for the knockout stage for the first time in their history
, Germany was my pick to win this thing. Neuer in net is arguably the best keeper in the world. Muller is one of the best players in the tournament to this point. Lahm is a great player. Mertesacker and Boateng head a capable back line. Ozil is a strong midfielder. Klose is one goal away from breaking the all-time World Cup scoring record. (and on and on and on...)
PREDICTION: Germany 3, Algeria 0.
Argentina faces Switzerland, and although the Swiss have been a formidable side this World Cup, their opponents have this guy named Messi, who is hitting the right form at the right time. Argentina also has Real Madrid star Di Maria to create havoc in the middle, but who are we kidding? Messi will score again in this match, and
further spark debate on whether he or Maradona was the better footballer from their respective South American country
.
PREDICTION: Argentina 2, Switzerland 0.
Finally, USA! USA! USA! The United States take on Belgium, which will be a tough test for the Americans. Belgium features the likes of Vincent Kompany and Eden Hazard,
Belgium is many experts' dark horse to win the whole thing
. And although the United States
have already surprised many by getting out of the Group of Death
, their magical run ends against what is simply a side with more talent. Hate to sound un-American, but this is my head, not my heart, speaking.
PREDICTION: Belgium 2, United States 0.
(
Cover Photo by Ryan Pierse for FIFA via Getty Images and taken from The Guardian
)