June 26, 2013
By Mike Patterson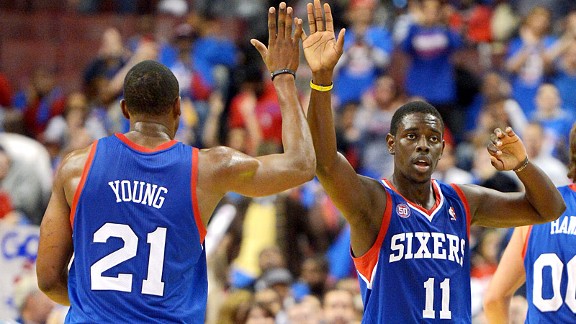 The Philadelphia 76ers are hoping to retool after a disappointing 2012-2013 campaign. With only a few players returning next the season, the Sixers are hoping to use there cap space to acquire big names and improve their team.
Only a few of the players are set to return next year. They include breakout star, Jrue Holiday, Evan Turner, Thaddeus Young, and Spencer Hawes.
The Sixers free agents are Charles Jenkins, Nick Young, Royal Ivey, Damien Wilkins, Dorell Wright, and, of course, Andrew Bynum.
The Sixers brought in Nick Young in hopes he would fill the void left at the sixth-man role by Lou Williams. However, throughout the entire he failed to make shots on a consistent basis. Therefore, they should not bring back Swaggy P.
Royal Ivey and Damien Wilkins are in the same boat here. Neither player will ever put up a ton of points, but both guys provide a defensive presence and veteran leadership. This was an easy decision, the Sixers should bring them both back.
Dorell Wright is another guy who should be brought back. Only a few years ago, he led the league in three-point shooting, and he is hoping to return to those numbers. Also, he impressed the fans and coaches with his willingness to play hard consistently.
Andrew Bynum may be the toughest choice on this list. 2011-2012 was the best year of the big man's career and the Sixers sacrificed a lot of talent to land Bynum in hopes he would have another season like the last.
However, Bynum failed to play in a single game all season due to a number of various knee injuries. If Bynum is willing to sign a short deal, the Sixers should take a risk. But Bynum will most likely be looking to sign a max deal, and, if that's the case, they should let him walk.
If the Sixers do not sign Bynum, they have the capability to sign some talented players.
This free agency market is not an extremely great one. The biggest names available are Chris Paul, Dwight Howard, Josh Smith, Andre Iguodala, and OJ Mayo.
Although Philly would love to see Iggy return or the Sixers to land one of the big stars, it is most likely not going to happen.
There are some intriguing players in the market that Philly could realistically land. One of the most interesting players this offseason is Nate Robinson. Robinson is a practical option to provide the much needed scoring spark off the bench that Lou Williams once contributed.
Samuel Dalembert's name also makes this list. The fans of Philadelphia loved the undersized center and would love to see him return. He would provide a defensive presence in the paint that the team currently lacks.
The Sixers also need a small-forward/perimeter-defender. Here, they have a few options. The two most interesting names are Al-Farouq Aminu and Ronnie Brewer. Neither player warrants a substantial contract, but they both could become crucial role players on a winning team.
Fans are hoping to see the Sixers make some big moves this off-season and begin rebuilding by acquiring some talented players to surround their returning core. With the Sam Hinkie at the helm, expect the Sixers to take advantage of their cap space and improve the team with great free agent signings.