August 1, 2013
By Nick Tricome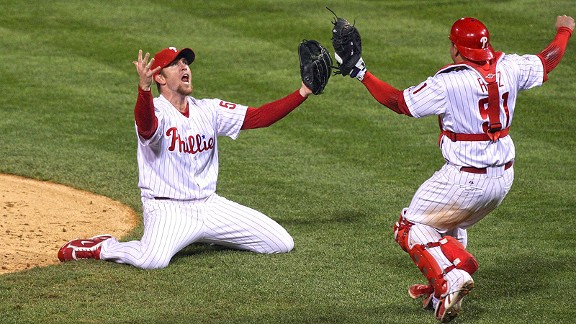 It's been almost five years since Brad Lidge threw the last pitch in the 2008 World Series, yet he still hasn't found a good way of explaining what it was like to win it all.
"It was an incredible feeling," Lidge said. "I try to describe it, but it's still indescribable. It was the greatest feeling you could have as a baseball player, I believe."
The former closer was the focus of a Thursday afternoon press conference at Citizens Bank Park, where he retired as a Phillie to kick off the team's alumni weekend.
Fans will always remember Lidge as the one who clinched the Phillies' first championship in 28 years and the city of Philadelphia's first in 25, with a strikeout of the Tampa Bay Rays' Eric Hinske in game five of the World Series.
A lot of fans can remember exactly how the unforgettable moment happened. The case is no different for Lidge, who was caught in the middle of it all.
"After the pitch I remember just saying, "Oh my God we won the World Series!" And I remember Chooch (Carlos Ruiz) coming out," Lidge said, trying to recall the moment. "Then all of a sudden, just a complete blackout for the next couple seconds, with large human beings jumping on top over and over and over."
"I watched the replay on that and I've seen Shane Victorino jump on top and then go back and do it again," Lidge added. "So, I know that there were a lot of guys jumping on top of us. Chooch and I, we had the chance to talk a couple of days ago, we were saying, when we were at the bottom of that pile, neither of us could really breath and our faces were pushed next to each other, but we were still screaming."
"I mean it was just that feeling. It didn't matter if the weight of the world was on you, because it felt like no weight was on you at that point," Lidge said.
The World Series title was the perfect way to end what was a perfect year for Lidge in 2008.
Lidge went 41-for-41 in save opportunities during a campaign that saw the Phillies begin their title run with a 92-70 record and their second straight National League East crown.
With the way the 2008 season was going, the opposing team seeing Lidge pitch in the ninth meant that it was pretty much game over.
"I really kind of developed this feeling during the season that it was always going to work, it was always going to right, because it continued to go right every time," Lidge said. "I really was completely sold out and believed that every single time, something was going to go happen and make it go right."
However, there was one game that gave him trouble. It was the one that the Phillies needed to send them to the playoffs. The second to last game of the season against the Washington Nationals on September 27.
"I remember in the NL East clinching game. I think the bases were loaded, there was one out, one run game and [Ryan Zimmerman] was up," Lidge said. "I remember thinking, "I'm going to have to earn this one. This is going to be the one where things are going to have to go right in order for this one to work."
"[The Nationals] were just seeing me well that day," Lidge added.
"It was kind of weird. I knew it was going to work out I just didn't know how," he said. "It took an incredible play by Jimmy Rollins flipping to [Chase Utley], who was in fast forward motion after that, throwing to complete the double play. But that was a tough one, because I could really feel that they were seeing me that day. But, as I said, I had the confidence that it was going to work in some way."
In the end, it did work. Zimmerman grounded out to Rollins, who put the double play into motion, giving the Phils the 4-3 win and the division title.
For Lidge and the Phillies, it only got better from there.
The Phillies beat the Milwaukee Brewers three games to one in the National League Division Series, the Los Angeles Dodgers four games to one in the National League Championship Series and Tampa Bay four games to one in the World Series.
Lidge went seven-for-seven in save opportunities during the playoffs. He got the last, and most important, save after rain delayed game five for two days. The save made him a perfect 48-for-48 in save opportunities for all of 2008 and made the Phillies world champions.
Although the Phillies continued their success in the years after, Lidge struggled over the next three years. Both sides moved on after the 2011 season, with Lidge going on to sign a one-year deal with the Nationals for the 2012 season. He made 11 appearances in what would be his final Major League season.
Lidge has been enjoying the extra time he has to spend with his family thanks to retirement, but still misses the game he spent 11 years playing professionally.
"Life has been great in retirement. I get to be with my family everyday right now, which is the first and foremost thing," Lidge said. "As a baseball player, you really do miss them a ton. That's one of the hardest things if you ask any father during the season. Being a baseball player is great but you miss your family so much."
"But I certainly miss baseball a ton too," he added. "I miss the competition, being out there with guys on second and third with one out in a one run game, trying to come up with what you're gonna do to get that hitter out."
"Sometimes it's the things, not even necessarily on the field, but being with your buddies every single day and really having some great friendships," he said. "You miss those things a ton, but fortunately the guys I played with, especially in 2008, I got to spend a lot of time with in my career. We still stay in touch. We still text each other all the time and get phone calls to each other."
"I miss the game a lot and I miss the stuff, not necessarily between the lines, but everything else that has to do with it as well."