August 8, 2013
By Nick Tricome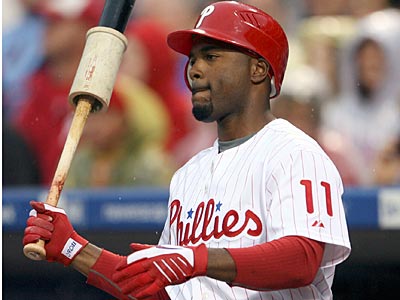 Like Michael Young from earlier Thursday, shortstop Jimmy Rollins has cleared waivers. He is now eligible for a trade to any team, provided he waive his full no-trade clause.
CBS Sports' Jon Heyman
writes that there are teams out there that have interest in Rollins, but that the 34-year old shortstop wishes to stay in Philadelphia and has no intentions of waiving his no-trade clause.
"The Cardinals showed some interest in Rollins before the deadline, and a rival GM said Rollins' name came up in talks even after he publicly said he wouldn't accept a trade out of Philadephia. Phillies GM Ruben Amaro didn't respond to a message.
Rollins told friends he wanted to stay with the Phillies because he'd like to move up the team's all-time career lists, and that's what he said publicly, too. "There are still a couple things I would like to be No. 1 on the lists in this organization,'' Rollins told Phillies writers, "so until those things are done, I'm not going anywhere."
Rollins is in the second year of a three-year, $33 million contract with the Phillies, that has an $11 million vesting option for a fourth year.
The veteran shortstop is hitting .255 with five home runs, 32 RBIs and a .660 on-base plus slugging percentage in 113 games this season. He also has 15 stolen bases.
His production is down from 2012. He hit .250 last year, but had 23 home runs, 68 RBIs, a .743 OPS and 30 stolen bases.
Rollins is batting a career .269 with 198 home runs, 825 RBIs. His career OPS stands at .754 in 1,905 games across 13 seasons in the Majors.
Rollins has 2134 hits, which is fourth all time in the franchise, behind Ed Delahanty (3rd, 2,213) Richie Ashburn (2nd, 2,217) and Mike Schmidt (1st, 2,234).
He also has 418 career stolen bases, good for 2nd all-time in Phillies history, behind Billy Hamilton (1st, 508).
(
Image from Philly.com
)