July 10, 2013
By Mike Patterson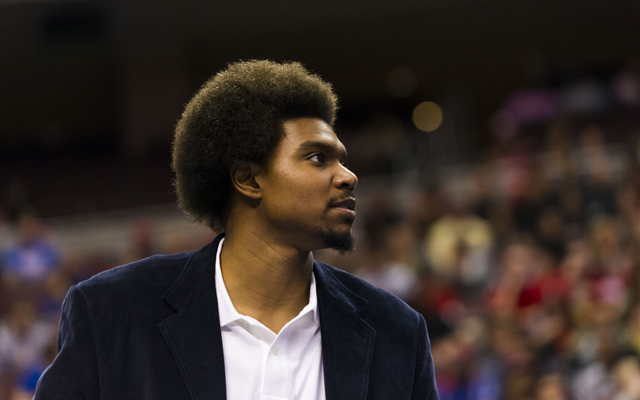 Last offseason, the Sixers took part in the four-team blockbuster, Dwight Howard trade that landed them all-star center Andrew Bynum.
At the time, the Sixers appeared to be the big winners of the deal. Bynum was coming off his best season and they did not have to give up too much to get the big man.
His injury history was known around the league, but the Sixers were willing to gamble that the reward outweighed the risk.
Bynum's antics off the court took their toll on his already bad knees, such as the bowling incident. His return date just kept getting pushed back, and he finally decided to get season-ending surgery in March.
Bynum did not suit up for a single game with the Sixers and was set to become an unrestricted free agent this summer.
It seemed as if neither side, the team or Bynum, pursued a return for the center this offseason and they parted ways.
Bynum is currently coming off of three consecutive meetings with the Dallas Mavericks, Atlanta Hawks, and Cleveland Cavaliers.
According to ESPN's Chris Broussard and other sources, Bynum decided to sign with the Cavs.
Bynum agreed to a two-year deal worth $24 million, with a team option for the 2014-15 season.
According to sources close to the organization, the team is wary of the risk of signing Bynum.
Therefore, he will have to reach a variety of health and game related benchmarks in the first year of his contract in order to collect the full $12 million.
If Bynum can remain healthy, the Cavs may become a serious contender. They are loaded with young talent that includes all-star Kyrie Irving, Dion Waiters, Tristan Thompson, Anderson Varejao and 2013 first-overall pick Anthony Bennett.
The talent level of this roster is very high and may make an attractive landing spot for Ohio native and former Cav Lebron James, who will be an unrestricted free agent next summer.
Lebron may be looking at a return to his hometown team and can make the team realistic championship contenders alongside Irving and a healthy Bynum.
As for the Sixers, they're moving on from the now infamous Bynum era and are completely rebuilding.