July 2, 2013
By Nick Tricome
Free agency doesn't start until tomorrow, but that hasn't stopped teams from making moves on the 4th of July.
Briere signs with Montreal
He chose the Flyers over Montreal six years go, but now Danny Briere has finally made his way to the Canadiens.
Briere signed a 2-year, $8 million deal with Montreal, which probably means he won't be booed at the Bell Centre anymore when he gets the puck.
The Flyers bought out Briere's contract after an underwhelming season, but he did a lot during his time in Philadelphia, which you can read more about by clicking
here
.
Although he is no longer a member of the Flyers organization, Briere will still remain on the Ed Snider Youth Hockey Foundation's
board of directors
.
Adam Hall staying in Philly for another year
The 32-year old forward was brought to Philadelphia in April and played 11 games late in the season.
Hall didn't put anything up in the goals or assists columns during those 11 games, but played well in other areas of the game. He finished his year with the Flyers with a minus-1 rating.
Hall played 20 games for the Tampa Bay Lightning and six games for the Carolina Hurricanes last season, before being claimed by the Flyers.
Flyers making a push for Emery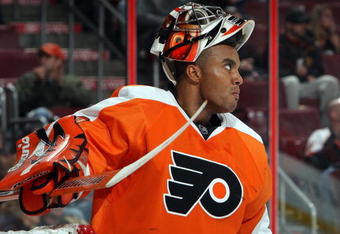 One of the things the Flyers will be looking for on Friday is a goaltender.
Ray Emery, who served as backup to Corey Crawford with Chicago Blackhawks, was originally expected to stay put in Chicago.
However, ESPN's Pierre LeBrun tweeted that this is no longer the case, reporting that Emery wants a shot at being a starter.
Ray Emery very likely moving on from Chicago, looking for bigger role, chance at 1 or 1a spot. I'd put Philly as front-runner.
— Pierre LeBrun (@Real_ESPNLeBrun) July 4, 2013
Frank Seravalli of the Daily News also tweeted that the Flyers are making a big push for Emery.
Flyers are also making a big final push for Ray Emery. Was said to be very close to re-signing with Hawks a bit ago. Now they're in the mix.
— Frank Seravalli (@DNFlyers) July 4, 2013
Emery, 30, already had a stint in Philadelphia back in the 2009-10 season, but only started 29 games.
After a season with Anaheim, Emery's career went on the rise when he joined Chicago, especially after last season.
Emery started 19 games for the Blackhawks in 2013 and went 17-1-0 with three shutouts. He had a very low 1.94 goals against average and a very high .922 save percentage.
So, are the Flyers in for Ray Emery part two? It probably won't be long until we find out.
(
Image from Bleacher Report
)